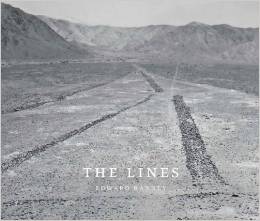 The following is an extract about the book The Lines as it appears on the Amazon website:
Edward Ranney (b. 1942) is one of the most distinguished photographers of the Peruvian landscape. In 1985 Ranney began photographing the Nazca lines, a series of monumental geoglyphs that stretch across an arid plateau in southern Peru. Created by the Nazca culture more than 2,000 years ago, the lines have perplexed archeologists and inspired scores of visual artists. While most clearly seen from the air in a plane or helicopter, these lines offer an even more awe-inspiring experience when viewed from the ground—Ranney's chosen vantage for his large-format photographs.
Two decades of work on these lines in Peru and on similar glyphs found in northern Chile are brought together for the first time in this handsome volume, revealing the enigmatic beauty of these ancient manmade landforms. An illuminating essay by esteemed critic Lucy R. Lippard situates Ranney's work within the context of landscape photography and contemporary art.