Derinkuyu is an ancient Underground City of many levels, built into to soft volcanic rock. It's in the Derinkuyu district in Nevşehir Province, Turkey and thought to have been built by the Phrygians in the 8th–7th centuries B.C.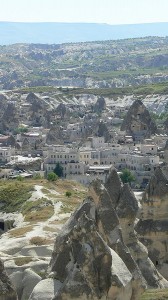 Some scholars think it was built by the Persians because of texts by the Persian king Yima referring to underground refugee settlements, for which Derinkuyu was used. The text is found in the second chapter of the Zoroastrian book Vendidad relating to underground refugee settlements.
It extends to a depth of 60m and large enough to shelter 20,000 people together with livestock and food stores including wine and oil presses. Apparently there was also stables refectories, and chapels.
On the second floor is a spacious room with a barrel vaulted ceiling. Comments about this room are that it would have been used as a religious school with additional study rooms off to the side.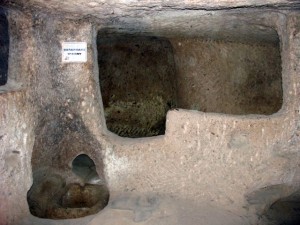 The underground city at Derinkuyu could be closed from the inside with large stone doors.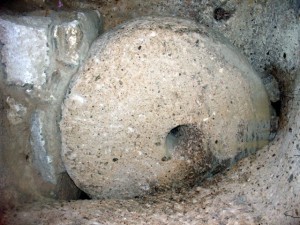 These are a curious shape in themselves. Each floor could be closed off separately. There is a 55 m ventilation shaft, or well shaft, that would have provided water to both the villagers above, or those hiding below if needs be.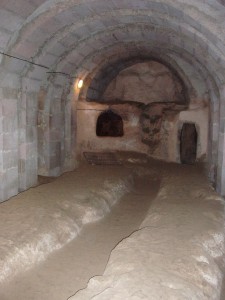 Photo credit vertical landscape: – alvez / Foter / CC BY-NC-SA
Photo credit: Stone door in Derinkuyu – "Puerta derinkuyu". Licensed under Public domain via Wikimedia Commons – http://commons.wikimedia.org/wiki/File:Puerta_derinkuyu.jpg#mediaviewer/File:Puerta_derinkuyu.jpg
Photo credit: winery – "Bar derinkuyu". Licensed under Public domain via Wikimedia Commons – http://commons.wikimedia.org/wiki/File:Bar_derinkuyu.jpg#mediaviewer/File:Bar_derinkuyu.jpg
Photo credit: school room – damiandude / Foter / CC BY-NC